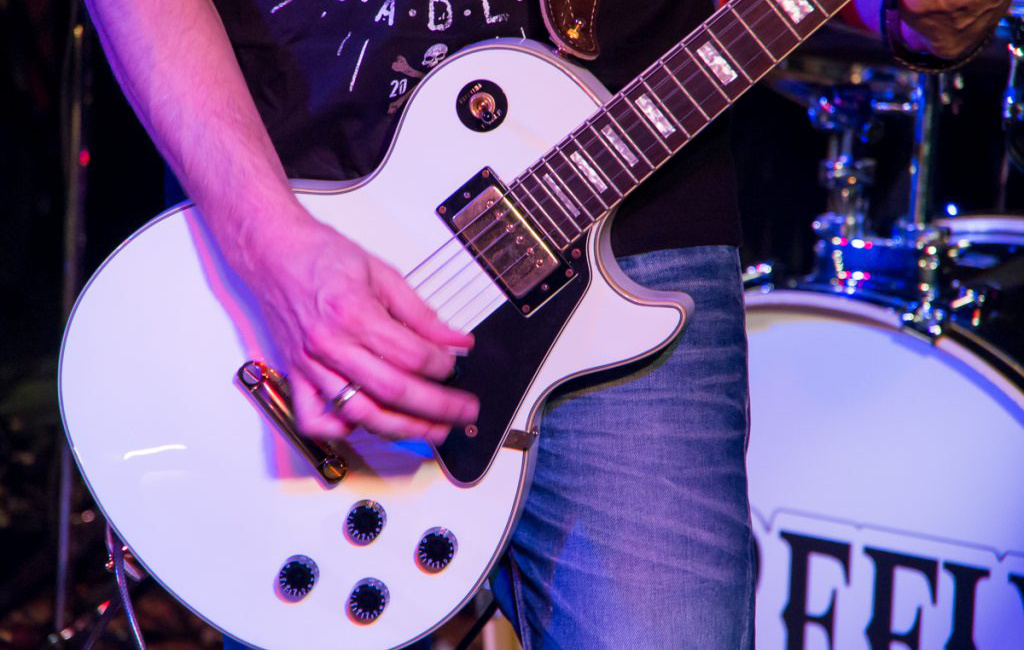 If you go to a hard rock performance you usually  find yourself in a big audience hall with big dangerous looking guys on a high stage and a security gap in between with dozens of well trained watchdogs and guards. And when you think about a couch concert you expect probably something like a living room with some upholstery and kitchen stools, a small table with tea and cookies and a shy girl singing sentimental chansons accompanied by a classic guitar player. 🙂
Well… Remove the high stage, the security gap and the gorillas, then replace the living room with a warehouse hangar, the tea with good Franconian beer and the shy girl with Biggi and Uwe and the classic guitar with four finest hard rock old stagers with the best equipment you can get for money…. and you are close to "Firefly". 🙂
"Firefly" is a hard rock band based in Nuremberg. The core members are Ronny (e-guitar), Frank (bass), Rudi (drums), Ron and/or Wolfgang (keys) and Biggi and Uwe as female and male vocals. All of them are excellent musicians and performers and make music by pure passion.
Some weeks ago I was invited as a photographer to an event they call "a private couch concert" and I was very glad because I had already the great pleasure to sing with them as a guest vocal during some rehearsals. This was also the first performance with a new member: Wolfgang, playing keyboards and several guitars.
As I have mentioned above I know Firefly from the rehearsal and they were always really good. But a rehearsal is a rehearsal. You don't keep all the things perfect you could keep perfect because you're exercising, trying out and experimenting around or playing just for pleasure.  But on this evening I experienced them in the show-mode and it just blew out my mind. Perfect mixed and processed by Ben – I was absolutely thrilled by the precision of the performance and the density of the sound.
The band covers the best classic hard rock, i. a.: Deep Purple, The Sweet, Uriah Heep, Van Halen and Hammerfall with everything that goes with it.
The second cool experience I've made was to have a direct and free access to a live playing hard rock band, hearing the music and shooting from all the possible perspectives, and it was the first time I was absolutely familiar with all things happening in the front and behind my camera.
Usually on the stage you have fast movements and fairly dark illumination – a very unfavourable situation for taking atmospheric pictures – and the bright spots fire only in very short intervals. But the good thing is: they fire to the rhythm of the music and if you can pre-count the bits and consider the camera mirror's swing time you can release the shutter exact in this moment when the stage is bright enough or – after some trials – play with the colours and shades of the stage lighting . :).
It was a great night and I hope you like the picts.
Discover more about Firefly on Facebook and the band's website (German).
Best regards
Chris